RISK MANAGEMENT SOLUTIONS
Supplier Sustainability Assessment Reports
Comprehensive sustainability assessments for your critical/ material suppliers using our proprietary CFID (Compliance, Framework, Initiatives, Data) assessment methodology across sustainability parameters, delivered through a cloud-based platform.
Why Supplier Sustainability Assessment? 
Supplier Sustainability Assessments are essential for ensuring a sustainable supply chain at any organization. There have been a series of examples where the poor performance of a supplier on the environmental, social or corporate governance front, has led to significant reputational and even financial damage for its customers.
Having sustainability clauses embedded in the supplier code of conduct, and asking suppliers to produce compliance certificates at the time of onboarding them has negligible impact. What is required for your critical/ material suppliers is a comprehensive sustainability assessment that gives you a thorough insight into the strength and weaknesses of the supplier when it comes to its sustainability performance.
How do we do Supplier Sustainability Assessment?
We have a highly experienced team, with more than eight years of experience in conducting ESG assessments of small and large companies from across the globe, for corporates, investors, and ESG rating agencies. We also track the developments taking place in corporate sustainability reporting.
Combining these two attributes we have developed a proprietary sustainability assessment methodology for suppliers that we call the Compliance, Framework, Initiatives, Data (CFID) methodology. We apply this methodology across 90+ sustainability indicators to evaluate each supplier on its sustainability performance and reporting. We further compliment this by doing a comprehensive media analysis of the suppliers to identify any negative news pertaining to sustainability parameters and make the necessary adjustments to the supplier's sustainability score. This approach works best for critical/ material suppliers of any organization.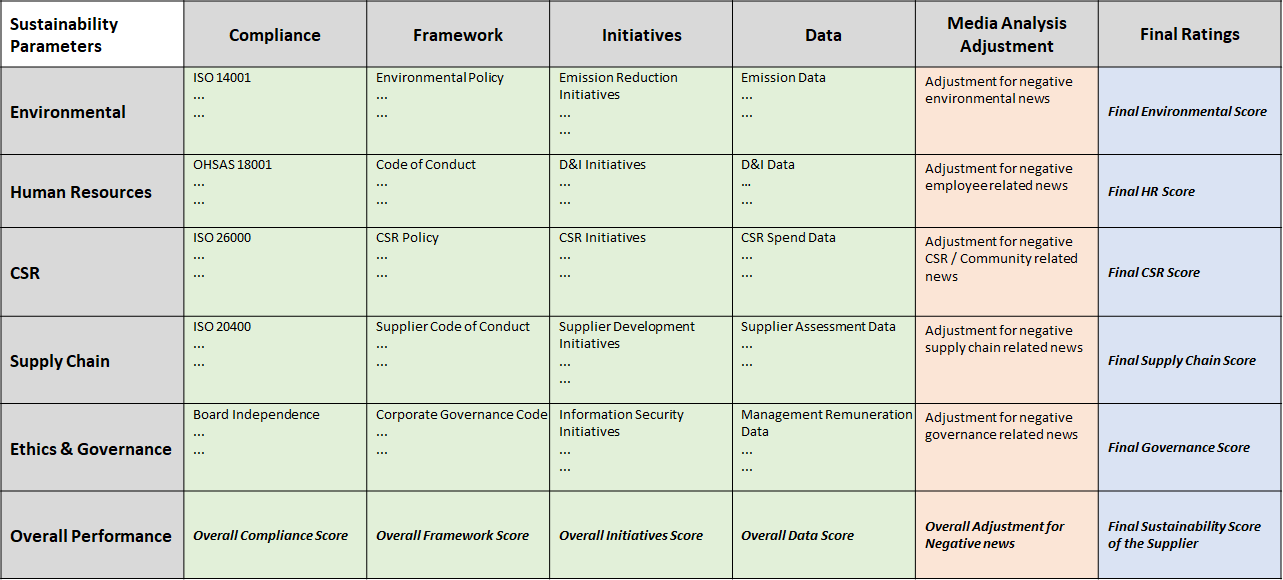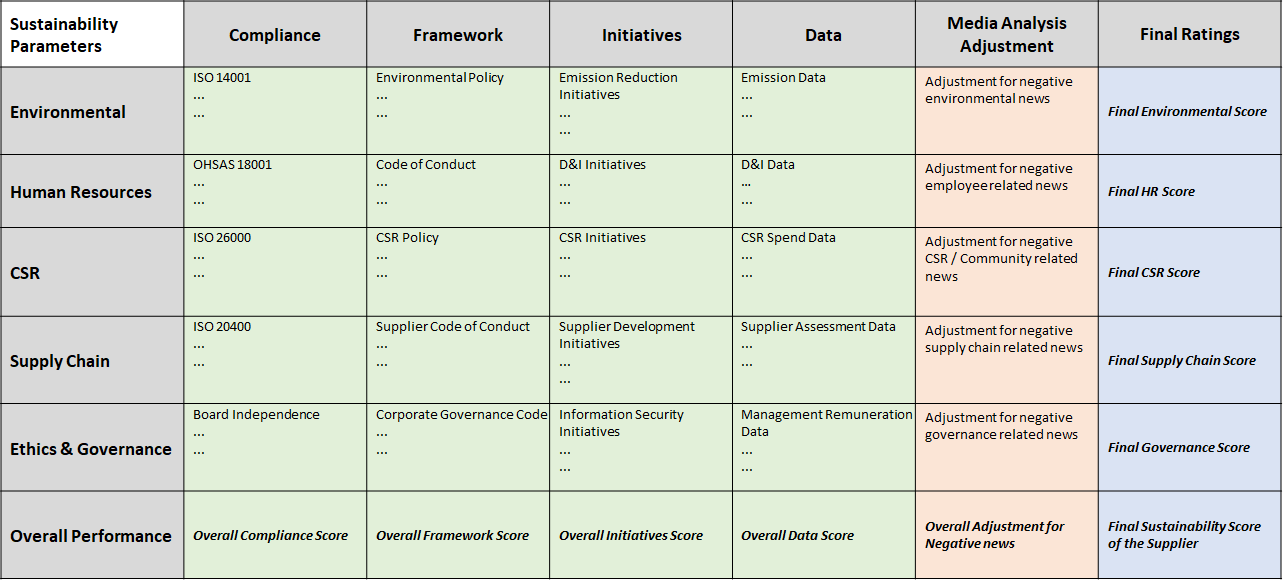 This methodology results in an insightful assessment of the supplier that goes beyond a mere rating. We deliver analyst comments on each of the five sustainability parameters, that help you understand the strengths and weaknesses of the supplier. We also recommend to you, the points on which the client should engage the supplier to help it improve its performance. 
How ARE Supplier Sustainability AssessmentS Delivered?
These assessments are delivered through a cloud-based platform that we call the Smart Intelligence Access Platform (SIA Platform). This platform allows our research team to keep the supplier ratings updated as new sustainability threats are detected through media analysis of each supplier. The platform delivers:
A sustainability dashboard for supplier portfolio: A common dashboard that displays the comparative performance of the entire supplier portfolio on major sustainability performance. 
A living version of the supplier sustainability assessment: Clients can access/ download the latest assessment anytime, or choose to receive periodic reports in their mailboxes.
Analyst comments and key considerations: A half-page summary of supplier's sustainability performance and suggested points of engagement for the client.
Supplier Intelligence and Alerts: A collection of news/opinions/ reports and other resources that impact the sustainability performance of suppliers. Critical news or updates are also sent to clients via email as Alerts, explaining the potential impact.
Please note that we build customized platforms for each client, and all are assessments are done by our research team by going through information reported by the supplier, and that reported on other relevant sources and in media. We do not rely on rating-driven and computer generated commentary. 
Request a sample assessment