Supplier Engagement Solutions
Supplier Sustainability Assessment / Engagement Reports
Comprehensive sustainability assessments for your critical suppliers using our proprietary assessment methodology that not only identifies gaps in your suppliers' sustainability performance, but also allows you to engage with them on how to address those gaps.
Why Supplier Sustainability Assessment? 
Supplier Sustainability Assessments are essential for ensuring a sustainable supply chain at any organization. With every organization looking at digital transformation, and leveraging technology to gain competitive advantage, choosing the right technology suppliers and ensuring that they contribute positively to your sustainability performance becomes imperative for every responsible organization. There have been a series of examples where the poor performance of a supplier on the environmental, social or corporate governance front, has led to significant reputational and even financial damage for its customers.
Having sustainability clauses embedded in the supplier code of conduct, and asking suppliers to produce compliance certificates at the time of onboarding them, can have limited impact. What is required for your critical/ material suppliers is a periodic comprehensive sustainability assessment that gives you a thorough insight into the strength and weaknesses of the supplier when it comes to its sustainability performance, and allows you to engage with them on how they can improve their sustainability performance.
How do we do Supplier Sustainability Assessment?
We have a highly experienced team, with more than ten years of experience in conducting ESG assessments of small and large companies from across the globe, for corporates, investors, and ESG rating agencies. We also track the developments taking place in corporate sustainability reporting to continue to improve our assessment methodologies. Our special focus in the last few years has been on assessing B2B technology suppliers across traditional technology areas such as software, IT services, BPO services, telecommunications, IT Infrastructure, as well as suppliers that offer emerging technology solutions such as artificial intelligence, robotic process automation, blockchain, Internet of Things, and cybersecurity, among others.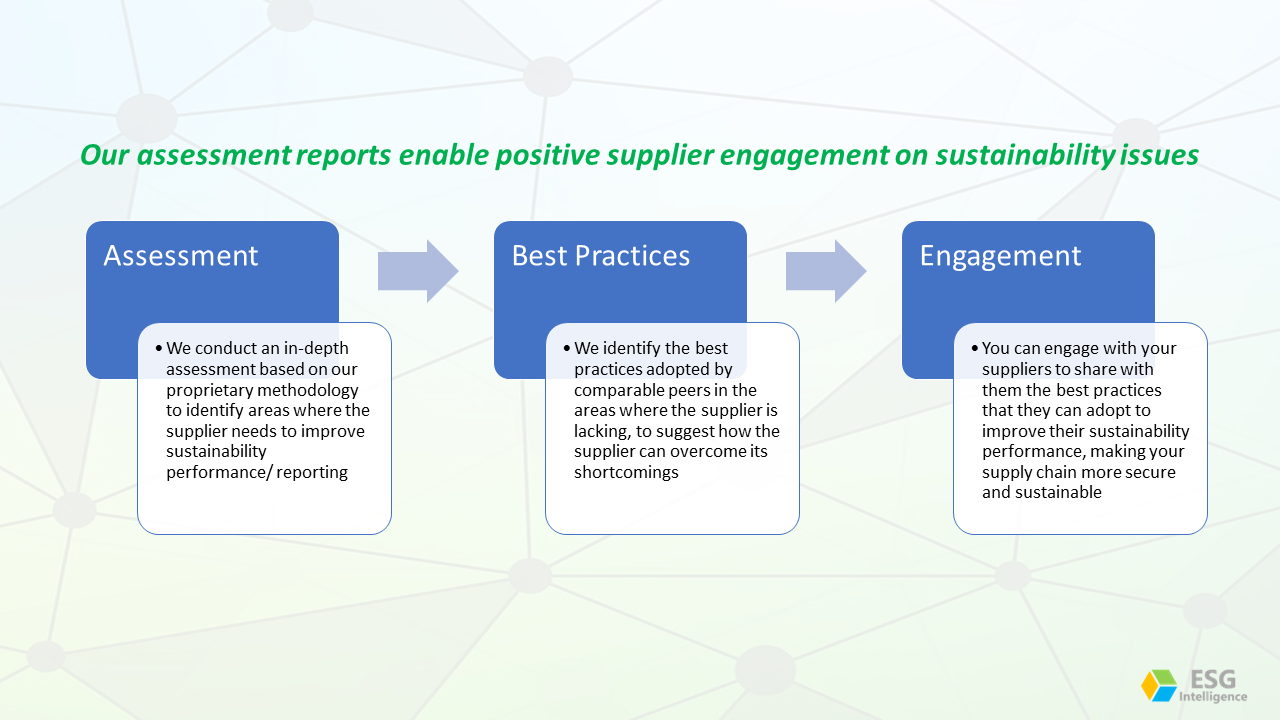 Use assessment reports to engage with your Critical Suppliers
Our Supplier Risk Assessment reports are differentiated through the additional value that they deliver, for corporations as well as for their supplier, in the form of best practices that we share in the assessments, that can act as engagement topics between you and your supplier. Since, we have tracked and assessed technology suppliers for years, we are able to write these reports based on our experience and knowledge tools that we have created to facilitate our decision making on subjective ESG parameters. At the centerpiece of our assessments is our ability to compare the performance of any given supplier with its most comparable peers, which enables us to make balanced assessments and suggest action items that can be easily achieved by your suppliers.
This methodology results in an insightful assessment of the supplier that goes beyond a mere rating. We deliver analyst comments pertaining to all important ESG parameters, that help you understand the strengths, weaknesses and actionable next steps for the supplier. When you share the insights from our reports with your suppliers, it strengthens your bond with them, beyond a mere transactional relationship. While helping them improve their sustainability performance, you are also minimizing your supply chain risk.
How ARE Supplier Sustainability AssessmentS Delivered?
We are completely flexible when it comes to delivering supplier sustainability assessments to you. Here are the options that you can choose from:
Inbox: The reports can be delivered in your inbox or to a distribution list within your organization in a PDF format.
Web Access: We can create an account for you on our website where you can access the latest versions of assessment reports as well as archived reports of all your suppliers. This will allow you to access the reports anytime and from anywhere. 
Cloud-based supplier engagement platform: We can also customize a cloud-based supplier engagement platform for you, where you will not only have access to latest assessment reports for all your suppliers, but you can also create an engagement interface where your suppliers can report the progress they are making on their sustainability performance.