About ESG Intelligence
This unique platform brings together all important stakeholders that combine to accelerate the adoption of technology-based solutions for solving Sustainability Problems for enterprises, governments, communities and our planet!
Who we are?
We are a research firm that has been tracking the sustainable and digital transformation of organizations for more than six years now. Founded in 2016, by Sumit Kumar and Kanchan Singh, after having worked on ESG Assessment of companies for clients that included ESG rating agencies, corporations, and even for investors. 
In our journey at ESG Intelligence, we have helped large corporations assess their supply chain sustainability challenges, by conducting in-depth supplier risk assessments of their critical suppliers that included 360-degree analysis of their business, financial and sustainability-related risks. 
We have also tracked the enterprise adoption of blockchain technology ever since the crypto boom of late 2017. While doing this, we have seen this technology being used as a synonym for bitcoin to it becoming a critical enabling element of the digital transformation stack for CIOs and CTOs around the world.
Beyond blockchain, we have worked on reports that traced the disruption and evolution happening in various sectors such as SpaceTech, AgTech, FinTech, and even the Cannabis sector as they adopt emerging technologies.
Why ESG Intelligence Platform?
Since we began tracking the adoption of the blockchain technology by enterprises, we firmly believe that this technology has a potential far beyond its most popular use case – cryptocurrencies. With features such as decentralization, immutability, transparency, and programmable trust, blockchain technology can is driving scalable adoption of sustainablity solutions/ use cases worldwide. These solutions encompass key ESG/SDG themes such as carbon trading, renewable energy, waste management, water conservation, responsible supply chains, ESG reporting, community development, financial inclusion, and many more.
Enterprise blockchain adoption has not been smooth and straightforward and we have seen hundreds of pilots and PoCs fail. These projects were started by small and large companies and even industry consortia. However, in several successful implementations of this technology we noted a common thread that blockchain technology was being used in conjunction with other emerging technologies such as artificial intelligence, Internet of Things, remote sensing, among others. 
ESG Intelligence Platform is an effort to showcase the companies that are using the right mix of these emerging technologies to create solutions that lead to a digital and sustainable transformation for their customers and our world. We do this by putting these companies in front of potential customers, investors and employees. These companies can tell their stories on our platform to the world, as we position this as the go-to source for intelligence on how "technology drives sustainability".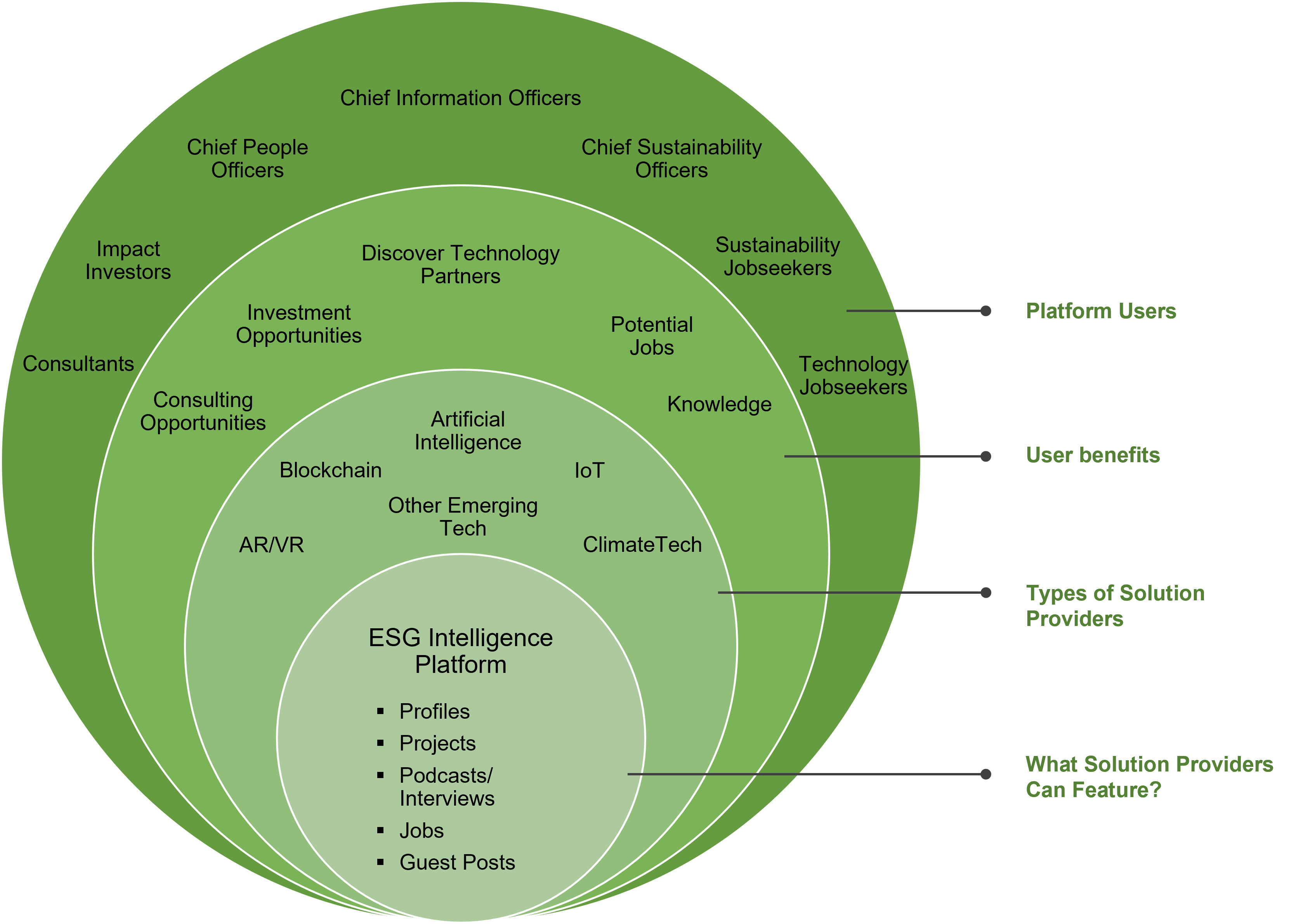 Join the Platform
If your company is a solution provider that enables sustainability using technology, join the ESG Intelligence Platform to get noticed by businesses, Investors, and Potential Employees.
Subscribe to Our Newsletter