As blockchain technology continues to evolve, calls for clarity surrounding technical, regulatory, and governance models have intensified. GSMI is an unprecedented effort to map and analyze the current landscape of technical and regulatory standards aimed at inspiring responsible innovation.
ESG Intelligence has collaborated with the Global Blockchain Business Council (GBBC), World Economic Forum, and industry leaders to release the Global Standards Mapping Initiative (GSMI), the first comprehensive effort to survey blockchain standards, mapping data from over 30 of technical standard-setting entities, 185 jurisdictions, and nearly 400 industry groups.
The GSMI includes two reports — covering technical standards and legislation and guidance by sovereign and international bodies — and an interactive world map of blockchain legislation and guidance. You can discover resources here. 
The GSMI Platform and the reports were unveiled by senior industry leaders on October 14, the World Standards Day. ESG Intelligence is proud to have contributed to this important platform and will continue to contribute going ahead.
The Technical standards report tracks the evolution of blockchain technology standards and identifies themes around which most standardization activity has centered. These themes include Security, IoT, Identity, DLT requirements, and DLT taxonomy/terminology. 
The Regulation component focuses on two crucial questions:
What is the current landscape of global legal, regulatory, and business standards?

What parts of standardization and regulation can we address today in a sustainable, informed, and effective way?
To address these questions trends, and challenges across the 185 jurisdictions have been examined and the findings have been sorted into 10 categories including Consumer Protection, Financial Surveillance, Securities and Commodities Regulation, Taxation, CBDCs, and more. 
While much of the existing regulation and standardization efforts have been centered around digital assets, a wider focus on blockchain technology is required to fuel enterprise blockchain adoption. As enterprises – big and small, continue to invest in blockchain consortia, the technology providers, including large IT services providers, system integrators, as well as niche technology start-ups are working with enterprises to expand enterprise adoption of this technology.
We also notice that some governments, government agencies, and regulators have proactively participated in consortia with enterprises and technology providers to explore the impact of this technology in specific use cases. However, such involvement needs to increase so that the regulatory framework can be put in place to smoothen the roll-out of viable use cases.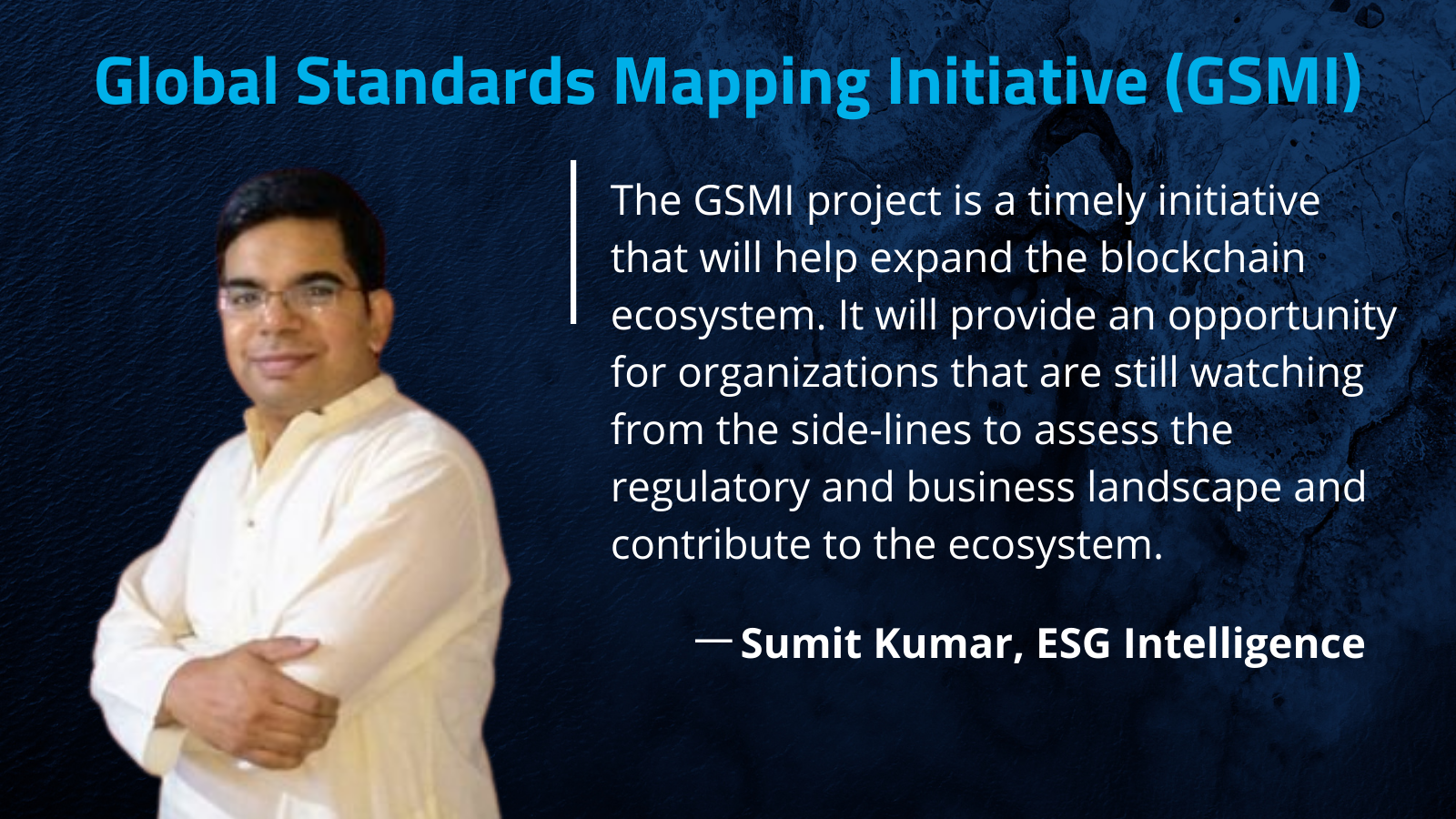 We believe that the GSMI can be a very useful platform that allows stakeholders from governments, enterprises, and technology providers to track the current status and evolution of blockchain-related regulation and standards. This can allow them to learn and work towards implementing similar regulations and standards, in their own jurisdictions or industries.
Case Study of the Day
We publish a new case study about emerging technologies driving sustainability use cases. Check out today's cases study and take a quick quiz to test your learning.
ESG Intelligence Platform
Check out the industry case studies related to ESG themes and see what the industry is doing to address this issue using technology.